Legendary Bassist/Composer Eddie Gomez & His Quintet Release New Recording Per Sempre on
BFM

 Jazz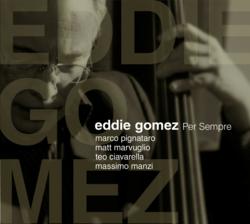 Los Angeles, CA (PRWEB) April 19, 2012
Acoustic bass giant Eddie Gomez ensures his place as one of the truly great musi­cians working today with his newest recording "Per Sempre," to be released by BFM Jazz on May 1, 2012.
Recorded in Bologna, Italy while on tour in winter 2009, "Per Sempre" is a luminous jazz disc destined to stand the test of time, show­casing an amazing ensemble. Gomez brings orig­i­nalsby himself and members of his quin­tetto the table, along with one ever­green, Stella by Starlight. One of "Per Sempres" haunting melodies, Arianna, is a stunning ballad exem­plified by the gorgeous, plucked Gomez solo at its center Jazz Times.
Coming off his recent triumph "Further Explo­rations" (with Chick Corea and the late Paul Motian) in which Gomez cele­brated the 50th anniversary of legendary pianist Bill Evans classic album "Explo­rations," "Per Sempre" furthers Gomez stature as consummate bassist, inspi­ra­tional leader, composer and culti­vator of musicianship.
Eddie Gomezs career kicked into gear in the early 1960s and there are more than twenty albums under his rubric. "Per Sempre" features a host of talent and original compo­sition. Gomezs conception is like his career, spanning the main­stream (Miles Davis, Gerry Mulligan, Dizzy Gillespie, Bill Evans, Benny Goodman, McCoy Tyner, Hank Jones, Freddie Hubbard) to fusion (Steps Ahead, The Gadd Gang) to clas­sical (Tashi, The Kronos Quartet, Richard Stoltzman). His recent recording Duets, co-led with Carlos Franzetti on piano, won Best Instru­mental Album at the 2010 GRAMMY